This vintage recipe was clipped from a newspaper and found in a large collection, date unknown. I've typed it below along with a scanned copy.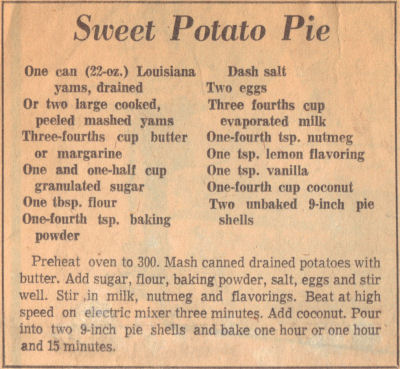 Sweet Potato Pie
One can (22-oz.) Louisiana yams, drained
Or two large cooked, peeled mashed yams
Three-fourths cup butter or margarine
One and one-half cup granulated sugar
One tbsp. flour
One-fourth tsp. baking powder
Dash salt
Two eggs
Three fourths cup evaporated milk
One-fourth tsp. nutmeg
One tsp. lemon flavoring
One tsp. vanilla
One-fourth cup coconut
Two unbaked 9-inch pie shells
Preheat oven to 300. Mash canned drained potatoes with butter. Add sugar, flour, baking powder, salt, eggs and stir well. Stir in milk, nutmeg and flavorings. Beat at high speed on electric mixer three minutes. Add coconut. Pour into two 9-inch pie shells and bake one hour or one hour and 15 minutes.
More Recipes For You To Enjoy: