This recipe comes from a promo recipe sheet by Mazola Oil titled "National Chicken Cooking Contest Winning Recipes". This was found in a large collection, date unknown. Recipe is typed below along with a scanned copy.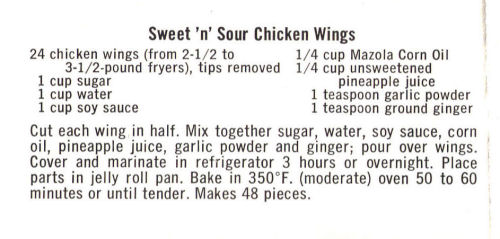 Sweet 'n' Sour Chicken Wings
24 chicken wings (from 2-1/2 to 3-1/2-pound fryers), tips removed
1 cup sugar
1 cup water
1 cup soy sauce
1/4 cup Mazola Corn Oil
1/4 cup unsweetened pineapple juice
1 teaspoon garlic powder
1 teaspoon ground ginger
Cut each wing in half. Mix together sugar, water, soy sauce, corn oil, pineapple juice, garlic powder and ginger; pour over wings. Cover and marinate in refrigerator 3 hours or overnight. Place parts in jelly roll pan. Bake in 350°F. (moderate) oven 50 to 60 minutes or until tender. Makes 48 pieces.
More Recipes For You To Enjoy: