This recipe comes from a large lot of old recipe clippings for pickles, jams, jellies, relishes and more. Date is unknown but the collection suggests dates ranged from 1940s through the 1960s.
Before using this recipe, it's important to read this page, the "Safe Canning & Food Preservation" section.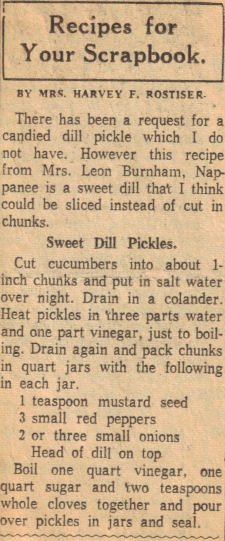 Recipes for Your Scrapbook.
By Mrs. Harvey F. Rostiser.
There has been a request for a candied dill pickle which I do not have. However this recipe from Mrs. Leon Burnham, Nappanee is a sweet dill that I think could be sliced instead of cut in chunks.
Sweet Dill Pickles.
Cut cumbers into about 1-inch chunks and put in salt water over night. Drain in a colander. Heat pickles in three parts water and one part vinegar, just to boiling. Drain again and pack chunks in quart jars with the following in each jar.
1 teaspoon mustard seed
3 small red peppers
2 or three small onions
Head of dill on top
Boil one quart vinegar, one quart sugar and two teaspoons whole cloves together and pour over pickles in jars and seal.
More Recipes For You To Enjoy: