This recipe was clipped from a newspaper and found in a large collection, date unknown. It has two other variations listed at the bottom. Recipe is typed below along with a scanned copy.
SWEET CUCUMBER PICKLES
300 small dark green cucumbers
2/3 cup salt
1/2 gallon cold vinegar
1/4 cup dry mustard
1/2 cup salt
1/2 cup sugar
1/2 cup mixed pickling spices
3 pounds (6 cups) sugar
Wash cucumbers, dry on towel. Slit each cucumber slightly with point of sharp paring knife, just to break the skin. Put cucumbers in large container, sprinkle with 2/3 cup salt. Cover with boiling water. Let stand until water is cold. Wash and drain cucumbers. To vinegar add remaining ingredients except sugar. Add only the 1/2 cup of sugar to the vinegar mixture. Reserve the 3 pounds of sugar. Pour the vinegar mixture over the cucumbers, preferably in a crock. Weight down cucumbers to keep them under vinegar mixture. Cover crock with cloth. Place in cool place. Each morning add 1/2 cup sugar to the pickles, stirring into the mixture, until all sugar has been added. This will take about 12 days. Keep pickles weighted down with plate and crock covered between additions of sugar. When all sugar has been added, it is better in this climate to drain sweet vinegar from pickles, heat to boiling, pour over pickles that have been packed in sterile jars and seal.
GREEN SWEET CUCUMBER PICKLES–If desired, mix 2 teaspoons of alum with 2/3 cup salt in Sweet Cucumber pickles recipe when brining and soak.
SWEET GHERKIN PICKLES–Use very small, even sized gherkin cucumbers. Wash, slit and soak in alum and salt solution as for Green Sweet Cucumber pickles. Process as for Sweet Cucumber pickles.
Before using this recipe, it's important to read this page, the "Safe Canning & Food Preservation" section.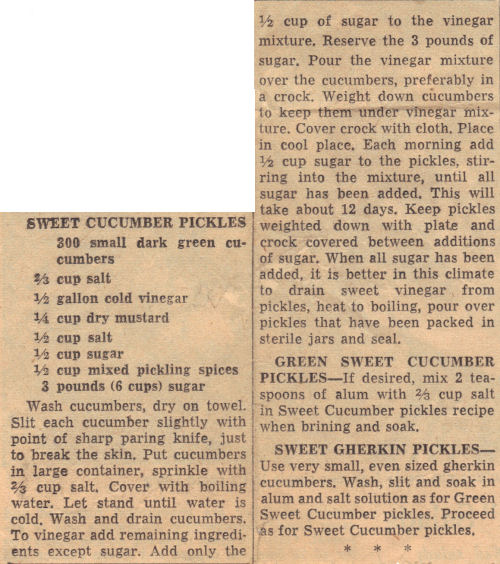 More Recipes For You To Enjoy: