This is a recipe card from French's that seems to have been cut out from some sort of packaging, the weight is cardstock. Date unknown, recipe is typed out in full below.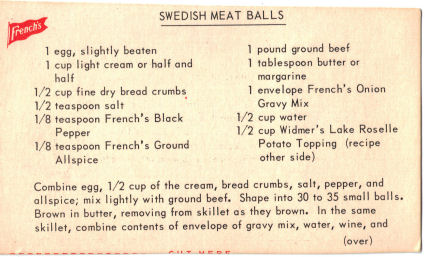 SWEDISH MEAT BALLS
1 egg, slightly beaten
1 cup light cream or half and half
1/2 cup fine dry bread crumbs
1/2 teaspoon salt
1/8 teaspoon French's Black Pepper
1/8 teaspoon French's Ground Allspice
1 pound ground beef
1 tablespoon butter or margarine
1 envelope French's Onion Gravy Mix
1/2 cup water
1/2 cup Widmer's Lake Roselle Potato Topping (recipe on other side)
Combine egg, 1/2 cup of the cream, bread crumbs, salt, pepper, and allspice; mix lightly with ground beef. Shape into 30 to 35 small balls. Brown in butter, removing from skillet as they brown. In the same skillet, combine contents of envelope of gravy mix, water, wine, and remaining cream. Bring to a boil, stirring constantly. Put meat balls back in the gravy; spoon Potato Topping around edge of skillet. Cover and heat for 10 to 15 minutes. 4 servings.
Potato Topping: Combine 1 cup cold water, 3/4 cup milk, 2 tablespoons melted butter, 1 teaspoon French's Parsley Flakes, and 1/2 teaspoon salt. Using a fork, stir in 1 2/3 cups French's Country Style Mashed Potato Flakes. Let stand several minutes; add 1/2 cup (2-oz.) thin strips of process American cheese. Spoon around edge of skillet containing meat balls.
More Recipes For You To Enjoy: