This old recipe was clipped from a newspaper and found in a large collection, date unknown. Recipe is typed below along with a scanned copy.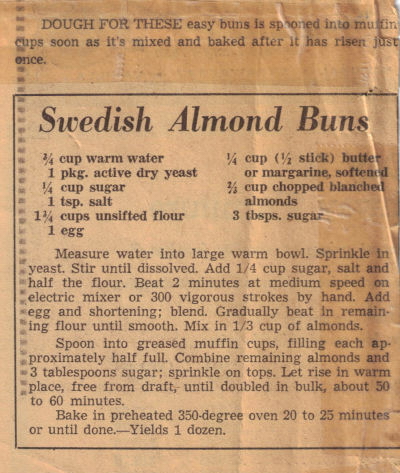 DOUGH FOR THESE easy buns is spooned into muffin cups soon as it's mixed and baked after it has risen just once.
Swedish Almond Buns
3/4 cup warm water
1 pkg. active dry yeast
1/4 cup sugar
1 tsp. salt
1 3/4 cups unsifted flour
1 egg
1/4 cup (1/2 stick) butter or margarine, softened
2/3 cup chopped blanched almonds
3 tbsps. sugar
Measure water into large warm bowl. Sprinkle in yeast. Stir until dissolved. Add 1/4 cup sugar, salt and half the flour. Beat 2 minutes at medium speed on electric mixer or 300 vigorous strokes by hand. Add egg and shortening; blend. Gradually beat in remaining flour until smooth. Mix in 1/3 cup of almonds.
Spoon into greased muffin cups, filling each approximately half full. Combine remaining almonds and 3 tablespoons sugar; sprinkle on tops. Let rise in warm place, free from draft, until doubled in bulk, about 50 to 60 minutes.
Bake in preheated 350-degree oven 20 to 25 minutes or until done.
–Yields 1 dozen.
More Recipes For You To Enjoy: