This handwritten recipe card gives quick instructions for Surprise muffins, date unknown. Recipe is typed below along with a scanned copy.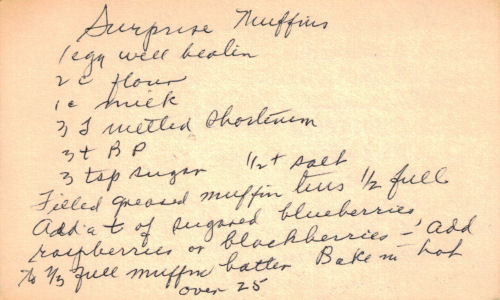 Surprise Muffins
1 egg well beaten
2 c flour
1 c milk
3 T melted shortening
3 t BP
3 tsp sugar
1/2 t salt
Filled greased muffin tins 1/2 full. Add a t of sugared blueberries, raspberries or blackberries – add to 2/3 full muffin batter. Bake in hot oven 25.
*RecipeCurio Note: To clarify directions, you fill the muffin tins 1/2 full with muffin batter, top with a teaspoon of berries then top with muffin batter until tins are 2/3 full. Bake in hot oven (400°) for 25 minutes.
More Recipes For You To Enjoy: