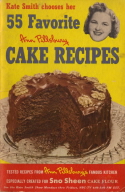 Here is page 10 from the vintage cookbook "Kate Smith chooses her 55 Favorite Ann Pillsbury CAKE RECIPES". This was published in 1952 by Pillsbury Mills, Inc. Kate Smith was a popular singer and radio personality with a career that began in the 1930s.
You can view all the pages in this cookbook by visiting this category: 55 Favorite Cake Recipes: Kate Smith, just click a page title to view that section. There is a scan of the page included below, you can click the image to view a larger copy.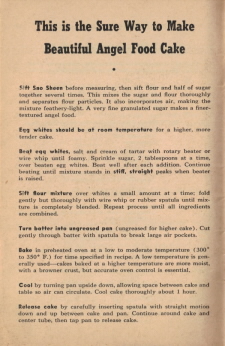 This is the Sure Way to Make Beautiful Angel Food Cake
Sift Sno Sheen before measuring, then sift flour and half of sugar together several times. This mixes the sugar and flour thoroughly and separates flour particles. It also incorporates air, making the mixture feathery-light. A very fine granulated sugar makes a finer-textured angel food.
Egg whites should be at room temperature for a higher, more tender cake.
Beat egg whites, salt and cream of tartar with rotary beater or wire whip until foamy. Sprinkle sugar, 2 tablespoons at a time, over beaten egg whites. Beat well after each addition. Continue beating until mixture stands in stiff, straight peaks when beater is raised.
Sift flour mixture over whites a small amount at a time; fold gently but thoroughly with wire whip or rubber spatula until mixture is completely blended. Repeat process until all ingredients are combined.
Turn batter into ungreased pan (ungreased for higher cake). Cut gently through batter with spatula to break large air pockets.
Bake in preheated oven at a low to moderate temperature (300° to 350° F.) for time specified in recipe. A low temperature is generally used–cakes baked at a higher temperature are more moist, with a browner crust, but accurate oven control is essential.
Cool by turning pan upside down, allowing space between cake and table so air can circulate. Cool cake thoroughly about 1 hour.
Release cake by carefully inserting spatula with straight motion down and up between cake and pan. Continue around cake and center tube, then tap pan to release cake.
More Recipes For You To Enjoy: