Recipe card from 1972 distributed by Marjon Promotions Inc.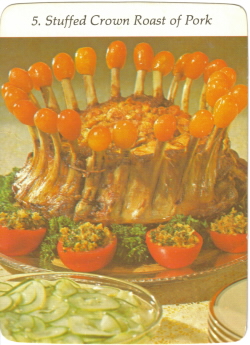 STUFFED CROWN ROAST OF PORK
1 (6-8 lb.) pork crown roast (about 18 ribs)
salt
pepper
Walnut stuffing
1 15-oz. jar preserved kumquats
Season pork with salt and pepper. Cover bone ends with foil and stuff center with foil. Insert meat thermometer carefully between two ribs. (Tip should be in center of muscle.) Place Roast in pan with bone ends up. Roast in 325° F. oven 35-40 minutes per pound or until meat thermometer registers 185° F. One hour before done, remove foil from center of roast, fill with stuffing and continue roasting. During the last 20 min. of roasting time, remove foil from bones; top each bone with a kumquat and baste roast with kumquat liquid. 10 servings.
Walnut Stuffing
1/4 cup margarine
1/4 cup chopped onion
2 stalks celery, chopped
4 cups soft bread cubes
2 eggs, beaten
1/2 cup chopped walnuts
1 tsp. salt
1/2 tsp. paprika
Melt margarine in large skillet. Add onion and celery; saute until golden. Mix in remaining ingredients. Makes about 3 cups.
Suggested Menu and Preparation Schedule
Stuffed Crown Roast of Pork
Baked Tomatoes
Cucumber Salad
Baked Acorn Squash with Limas (Card #93)
Caramel Custard
Bake Caramel Custard early in the day. Refrigerate.
2:00 pm Place Roast in Preheated Oven
*4:30 Make Stuffing
4:45 Place Stuffing in Center of Roast
**5:00 Prepare Squash. Bake.
*5:15 Prepare Tomatoes for Baking
**5:30 Cook Limas
5:35 Crown Roast with Kumquats. Bake Tomatoes.
6:00 Bon Appetit! Enjoy Your Dinner!
After dinner serve Caramel Custard.
*May be prepared early in the day and refrigerated.
**May be prepared early in the day and reheated.
More Recipes For You To Enjoy: