This handwritten recipe card was found in a large collection, date unknown. I've typed it below along with a scanned copy (front side only).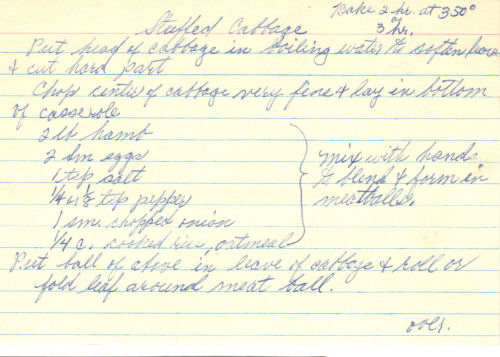 Stuffed Cabbage
Bake 2 – 3 hr. at 350°
Put head of cabbage in boiling water to soften leaves & cut hard part.
Chop center of cabbage very fine & lay in bottom of casserole
Mix with hands to blend & form in meatballs:
2 lb hamb.
2 sm eggs
1 tsp salt
1/4 or 1/8 tsp pepper
1 sm chopped onion
1/4 c. cooked rice; oatmeal
Put ball of above in leaf of cabbage & roll or fold leaf around meatball.
Sauce
2 cans (15 oz) tomato puree, unseasoned
1 can (15 oz) tomato sauce
3/4 c. brown sugar
1/4 c. lemon juice
1 tsp salt
2 Tbsp white sugar
Heat to blend. Pour sauce over cabbage.
To reheat, cover with foil & may want to add more sauce.
More Recipes For You To Enjoy: