This handwritten recipe card was found in a large collection, date unknown. I've typed it below along with a scanned copy.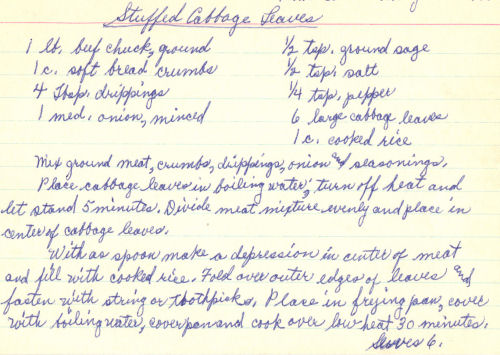 Stuffed Cabbage Leaves
1 lb. beef chuck, ground
1 c. soft bread crumbs
4 Tbsp. drippings
1 med. onion, minced
1/2 tsp. ground sage
1/2 tsp. salt
1/4 tsp. pepper
6 large cabbage leaves
1 c. cooked rice
Mix ground meat, crumbs, drippings, onion and seasonings.
Place cabbage leaves in boiling water; turn off heat and let stand 5 minutes. Divide meat mixture evenly and place in center of cabbage leaves.
With a spoon make a depression in center of meat and fill with cooked rice. Fold over out edges of leaves and fasten with string or toothpicks. Place in frying pan, cover with boiling water, cover pan and cook over low heat 30 minutes.
Serves 6.
More Recipes For You To Enjoy: