This promo recipe slip from Kroger was found in a large collection, date unknown. I've typed it below along with a scanned copy.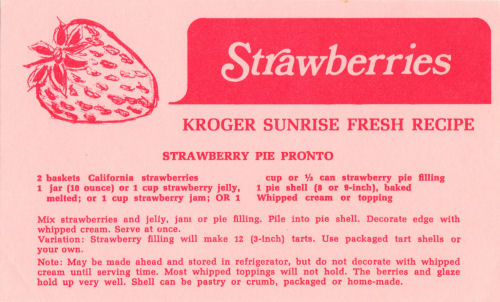 Strawberries
KROGER SUNRISE FRESH RECIPE
STRAWBERRY PIE PRONTO
2 baskets California strawberries
1 jar (10 ounce) or 1 cup strawberry jelly, melted; or 1 cup strawberry jam; OR 1 cup or 1/2 can strawberry pie filling
1 pie shell (8 or 9-inch), baked
Whipped cream or topping
Mix strawberries and jelly, jam or pie filling. Pile into pie shell. Decorate edge with whipped cream. Serve at once.
Variation: Strawberry filling will make 12 (3-inch) tarts. Use packaged tart shells or your own.
Note: May be made ahead and stored in refrigerator, but do not decorate with whipped cream until serving time. Most whipped toppings will not hold. The berries and glaze hold up very well. Shell can be pastry or crumb, packaged or home-made.
More Recipes For You To Enjoy: