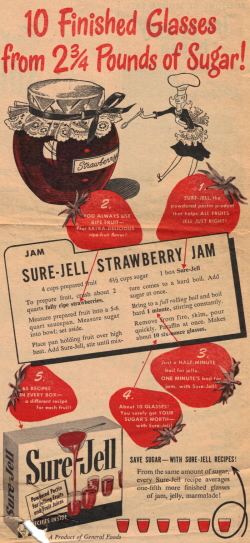 This is an advertisement from a magazine dated 1947 for Sure-Jell, it was published around the time when sugar and food rations were a concern. The full recipe ad is typed below along with a scanned copy that you can click to view larger.
Please make sure to read Important: Safe Canning & Food Preservation before using this recipe.
10 Finished Glasses from 2 3/4 Pounds of Sugar!
SURE-JELL, the powdered pectin product that helps ALL FRUITS JELL JUST RIGHT!
YOU ALWAYS USE RIPE FRUIT–for EXTRA-DELICIOUS ripe-fruit flavor!
Just a HALF-MINUTE boil for jelly, ONE MINUTE'S boil for jam, with Sure-Jell!
About 10 GLASSES! You surely get YOUR SUGAR'S WORTH–with Sure-Jell!
65 RECIPES IN EVERY BOX–a different recipe for each fruit!
JAM
SURE-JELL STRAWBERRY JAM
4 cups prepared fruit
6 1/2 cups sugar
1 box Sure-Jell
To prepare fruit, crush about 2 quarts fully ripe strawberries.
Measure prepared fruit into a 5-6 quart saucepan. Measure sugar into bowl; set aside.
Place pan holding fruit over high heat. Add Sure-Jell, stir until mixture comes to a hard boil. Add sugar at once.
Bring to a full rolling boil and boil hard 1 minute, stirring constantly.
Remove from fire, skim, pour quickly. Paraffin at once. Makes abut 10 six-ounce glasses.
SAVE SUGAR–WITH SURE-JELL RECIPES!
From the same amount of sugar, every Sure-Jell recipe averages one-fifth more finished glasses of jam, jelly, marmalade!
More Recipes For You To Enjoy: