This promo recipe from Crisco was clipped from a magazine and found in a large collection, date unknown. I've typed it below along with a scanned copy.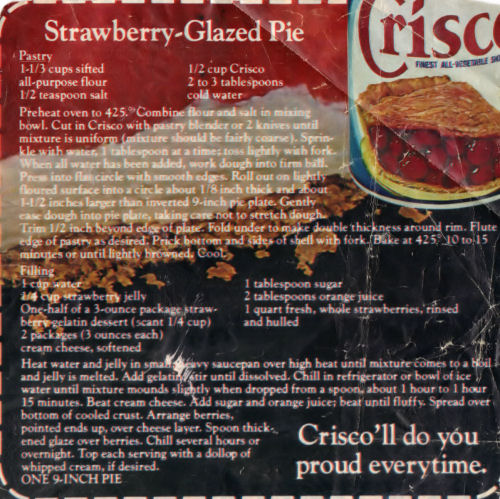 Strawberry-Glazed Pie
Pastry
1-1/3 cups sifted all-purpose flour
1/2 teaspoon salt
1/2 cup Crisco
2 to 3 tablespoons cold water
Preheat oven to 425°. Combine flour and salt in mixing bowl. Cut in Crisco with pastry blender or 2 knives until mixture is uniform (mixture should be fairly coarse). Sprinkle with water, 1 tablespoon at a time; toss lightly with fork. When all water has been added, work dough into firm ball. Press into flat circle with smooth edges. Roll out on lightly floured surface into a circle about 1/8 inch thick and about 1-1/2 inches larger than inverted 9-inch pie plate. Gently ease dough into pie plate, taking care not to stretch dough. Trim 1/2 inch beyond edge of plate. Fold under to make double thickness around rim. Flute edge of pastry as desired. Prick bottom and sides of shell with fork. Bake at 425° 10 to 15 minutes or until lightly browned. Cool.
Filling
1 cup water
1/4 cup strawberry jelly
One-half of a 3-ounce package strawberry gelatin dessert (scant 1/4 cup)
2 packages (3 ounces each) cream cheese, softened
1 tablespoon sugar
2 tablespoons orange juice
1 quart fresh, whole strawberries, rinsed and hulled
Heat water and jelly in small heavy saucepan over high heat until mixture comes to a boil and jelly is melted. Add gelatin; stir until dissolved. Chill in refrigerator or bowl of ice water until mixture mounds slightly when dropped from a spoon, about 1 hour to 1 hour 15 minutes. Beat cream cheese. Add sugar and orange juice; beat until fluffy. Spread over bottom of cooled crust. Arrange berries, pointed ends up, over cheese layer. Spoon thickened glaze over berries. Chill several hours or overnight. Top each serving with a dollop of whipped cream, if desired.
ONE 9-INCH PIE
More Recipes For You To Enjoy: