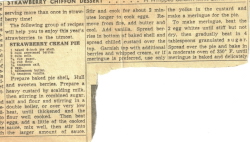 And old, undated newspaper clipping.
STRAWBERRY CREAM PIE
1 baked 9-inch pie shell.
2 cups sweetened berries.
2 cups milk.
3/4 sugar.
1/3 cup flour.
1/4 teaspoon salt.
2 eggs.
1 tablespoon butter.
1/2 teaspoon vanilla.
Prepare baked pie shell. Hull and sweeten berries. Prepare a heavy custard by scalding milk, then stirring in combined sugar, salt and flour and stirring in a double boiler, or over very low heat, until thickened and the flour well cooked. Then beat eggs, add a little of the cooked sauce, mix well, then stir into the larger amount of sauce.
Stir and cook for about 2 minutes longer to cook eggs. Remove from fire, add butter and cool. Add vanilla. Spread berries in bottom of baked shell and spread chilled custard over the top. Garnish top with additional berries and whipped cream, or if meringue is preferred, use only the yolks in the custard and make a meringue for the pie.
To make meringue, beat the 2 egg whites until stiff but not dry, then gradually beat in 4 tablespoons granulated sugar. Spread over the pie and bake in a moderate oven of 350° F. until meringue is baked and delicately*
clipping cuts off here for recipe
More Recipes For You To Enjoy: