This promo recipe was clipped from packaging of some kind, likely a box of Domino Sugar since it's one of the required ingredients. It was found in a large collection, date unknown. I've typed it out below along with a scanned copy.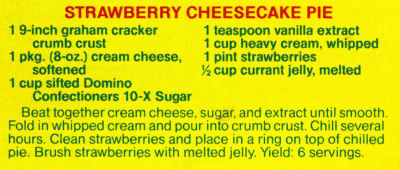 STRAWBERRY CHEESECAKE PIE
1 9-inch graham cracker crumb crust
1 pkg. (8-oz.) cream cheese, softened
1 cup sifted Domino Confectioners 10-X Sugar
1 teaspoon vanilla extract
1 cup heavy cream, whipped
1 pint strawberries
1/2 cup currant jelly, melted
Beat together cream cheese, sugar, and extract until smooth. Fold in whipped cream and pour into crumb crust. Chill several hours. Clean strawberries and place in a ring on top of chilled pie. Brush strawberries with melted jelly. Yield: 6 servings.
More Recipes For You To Enjoy: