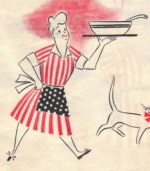 Here are pages 2 and 3 of the WWII ration cookbook titled "Recipes For Today" that was published by General Foods Corporation in 1943 (the cover is page 1). This was during the second world war when the United States was experiencing food rations and shortages (sugar, meat, etc.) and homemakers were looking for creative ways to feed their families.
You can view all the pages in this little book by visiting this category: Recipes For Today (WWII), just click a page title to view that section of the book. You'll find scans of the pages included below (click pictures to view a larger size) as well as a typed version for easy printing.
Recipes For Today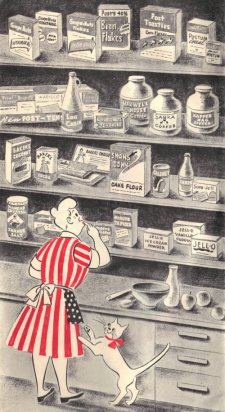 Staunch Friends For Today's Kitchens
Every American kitchen is sharing its food. Shortages are still with us. And we know that our meals cannot always follow their customary pattern, yet they must be nutritious and appealing.
So, we look especially for dependable products–foods that taste good and look attractive, that contribute nourishing goodness to menus, and are easy to use.
For years General Foods has offered a wide variety of just such fine foods. And every effort has been made to keep fullest quotas on the grocer's shelves.
Among these products are Post Cereals which offer fine flavor and convenience plus important full-grain nutritive values. Nourishing beverages that can be made with milk, like Postum and Baker's Cocoa. Time-savers like Jell-O, and baking aids, like Swans Down and Calumet.
These foods and many others, all delicious and useful, are produced in modern, sanitary food plants under American standards. They count for good eating in every corner of our land!
| | |
| --- | --- |
| GRAPE-NUTS | JELL-O |
| GRAPE-NUTS FLAKES | JELL-O PUDDINGS |
| GRAPE-NUTS WHEAT-MEAL | JELL-O ICE CREAM POWDER |
| POST'S CORN TOASTIES | D-ZERTA |
| POST'S 40% BRAN FLAKES | MINUTE GELATIN |
| POST'S RAISIN BRAN | MINUTE TAPIOCA |
| POSTUM | BIRDS EYE FROSTED FOODS |
| BAKER'S BREAKFAST COCOA | SNIDER'S CANNED FRUITS AND VEGETABLES |
| BAKER'S CHOCOLATE | SNIDER'S CONDIMENTS |
| MAXWELL HOUSE COFFEE AND TEA | SWANS DOWN CAKE FLOUR |
| KAFFEE HAG AND SANKA COFFEE | CALUMET BAKING POWDER |
| BAKER'S COCONUT | CERTO AND SURE-JELL |
| LOG CABIN SYRUP | DIAMOND CRYSTAL SHAKER SALT |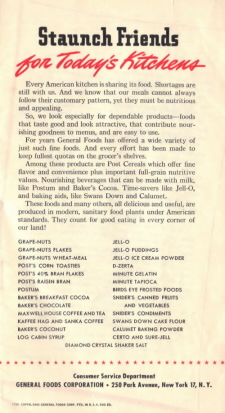 More Recipes For You To Enjoy: