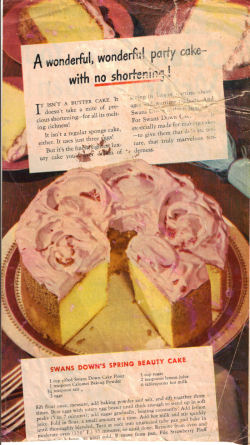 This is a vintage recipe clipping from a magazine during WW II for Swans Down Cake Flour. There is no date but it speaks of rations and wartime budget, so this would be a recipe during that time. The bottom part of the recipe is missing, but only a slight bit since the directions end at icing the cake with Strawberry Fluff (recipe for the fluff is not included).
The recipe is quite worn in spots but is typed complete below, click the picture if you'd like to see a large copy.
A wonderful, wonderful party cake–with no shortening!
IT ISN'T A BUTTER CAKE. It doesn't take a mite of precious shortening–for all its melting richness!
It isn't a regular sponge cake, either.
it uses just three eggs!
But it's the finest, lightest luxury cake you'd ever dream of seeing in days of wartime shortages and wartime budgets. And Swans Down is the reason why. For Swans Down Cake Flour is especially made for making cakes–to give them that delicate texture, that truly marvelous tenderness.
SWANS DOWN'S SPRING BEAUTY CAKE
1 cup sifted Swans Down Cake Flour
1 teaspoon Calumet Baking Powder
1/4 teaspoon salt
3 eggs
1 cup sugar
2 teaspoons lemon juice
6 tablespoons hot milk.
Sift flour once, measure, add baking powder and salt, and sift together three times. Beat eggs with rotary egg beater until thick enough to stand up in soft peaks (5 to 7 minutes); add sugar gradually, beating constantly. Add lemon juice. Fold in flour, a small amount at a time. Add hot milk and stir quickly until thoroughly blended. Turn at once into ungreased tube pan and bake in moderate oven (350° F.) 35 minutes, or until done. Remove from oven and invert pan, 1 hour, or until cold. Remove from pan. Pile Strawberry Fluff (clipping ends here).
More Recipes For You To Enjoy: