This recipe was clipped from cardboard packaging of some kind, likely a box of Sea Island Golden Brown Sugar since it's one of the required ingredients. This was found in a large collection, date unknown. I've typed it below along with a scanned copy.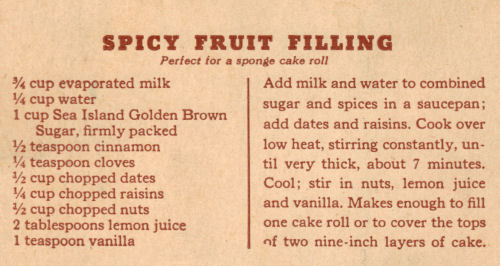 SPICY FRUIT FILLING
Perfect for a sponge cake roll
3/4 cup evaporated milk
1/4 cup water
1 cup Sea Island Golden Brown Sugar, firmly packed
1/2 teaspoon cinnamon
1/4 teaspoon cloves
1/2 cup chopped dates
1/4 cup chopped raisins
1/2 cup chopped nuts
2 tablespoons lemon juice
1 teaspoon vanilla
Add milk and water to combined sugar and spices in a saucepan; add dates and raisins. Cook over low heat, stirring constantly, until very thick, about 7 minutes. Cool; stir in nuts, lemon juice and vanilla. Makes enough to fill one cake roll or to cover the tops of two nine-inch layers of cake.
More Recipes For You To Enjoy: