This recipe was clipped from a newspaper and found in a large collection, date unknown but likely 1963 since that was handwritten at the top of the clipping. I've typed it below along with a scanned copy.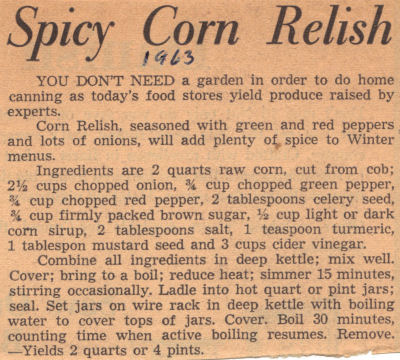 Spicy Corn Relish
YOU DON'T NEED a garden in order to do home canning as today's food stores yield produce raised by experts.
Corn Relish, seasoned with green and red peppers and lots of onions, will add plenty of spice to Winter menus.
Ingredients are 2 quarts raw corn, cut from cob; 2 1/2 cups chopped onion, 3/4 cup chopped green pepper, 3/4 cup chopped red pepper, 2 tablespoons celery seed, 3/4 cup firmly packed brown sugar, 1/2 cup light or dark corn sirup, 2 tablespoons salt, 1 teaspoon turmeric, 1 tablespoon mustard seed and 3 cups cider vinegar.
Combine all ingredients in deep kettle; mix well. Cover; bring to a boil; reduce heat; simmer 15 minutes; stirring occasionally. Ladle into hot quart or pint jars; seal. Set jars on wire rack in deep kettle with boiling water to cover tops of jars. Cover. Boil 30 minutes, counting time when active boiling resumes. Remove.
–Yields 2 quarts or 4 pints.
Please read the Safe Canning & Food Preservation section if planning on canning this recipe.
More Recipes For You To Enjoy: