This recipe clipping comes from a large lot of old recipe clippings for pickles, jams, jellies, relishes and more. Date is unknown but the recipes in this lot suggest 1940s through to the 1960s. Recipe is typed below as-is.
Before using this recipe, it's important to read this page, the "Safe Canning & Food Preservation" section.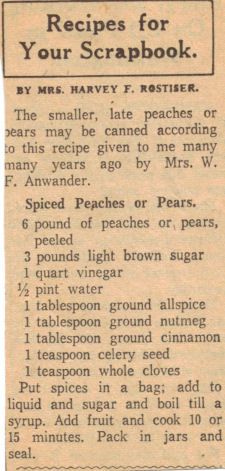 Recipes for Your Scrapbook.
By Mrs. Harvey F. Rostiser.
The smaller, late peaches or pears may be canned according to this recipe given to me many many years ago by Mrs. W. F. Anwander.
Spiced Peaches or Pears.
6 pound of peaches or pears, peeled
3 pounds light brown sugar
1 quart vinegar
1/2 pint water
1 tablespoon ground allspice
1 tablespoon ground nutmeg
1 tablespoon ground cinnamon
1 teaspoon celery seed
1 teaspoon whole cloves
Put spices in a bag; add to liquid and sugar and boil till a syrup. Add fruit and cook 10 or 15 minutes. Pack in jars and seal.
More Recipes For You To Enjoy: