This recipe was clipped from cardboard packaging of some kind, likely a box of Minute Rice since it's one of the required ingredients. Date unknown. There are three variations to the main recipe included. I've typed it out below along with a scanned copy.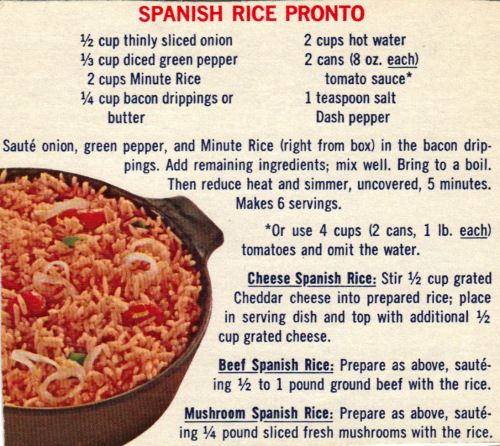 SPANISH RICE PRONTO
1/2 cup thinly sliced onion
1/3 cup diced green pepper
2 cups Minute Rice
1/4 cup bacon drippings or butter
2 cups hot water
2 cans (8 oz. each) tomato sauce*
1 teaspoon salt
Dash pepper
Saute onion, green pepper, and Minute Rice (right from box) in the bacon drippings. Add remaining ingredients; mix well. Bring to a boil. Then reduce heat and simmer, uncovered, 5 minutes. Makes 6 servings.
*Or use 4 cups (2 cans, 1 lb. each) tomatoes and omit the water.
Cheese Spanish Rice: Stir 1/2 cup grated Cheddar cheese into prepared rice; place in serving dish and top with additional 1/2 cup grated cheese.
Beef Spanish Rice: Prepare as above, sauteing 1/2 to 1 pound ground beef with the rice.
Mushroom Spanish Rice: Prepare as above, sauteing 1/4 pound sliced fresh mushrooms with the rice.
More Recipes For You To Enjoy: