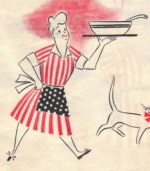 Here are pages 11, 12 and 13 of the WWII ration cookbook titled "Recipes For Today" that was published by General Foods Corporation in 1943. This was during the second world war when the United States was experiencing food rations and shortages (sugar, meat, etc.) and homemakers were looking for creative ways to feed their families.
You can view all the pages in this little book by visiting this category: Recipes For Today (WWII), just click a page title to view that section of the book. You'll find scans of the pages included below (click pictures to view a larger size) as well as a typed version for easy printing.
Thick, nourishing soups are dependable "extenders", perfect to ladle out of an old-fashioned tureen at the family table. Any of these soups will make a satisfying main dish, maybe enough for two meals! The secret is rich flavor. It calls for slow cooking, and careful seasoning. All these fine points are discussed right here.
Soups good for a meal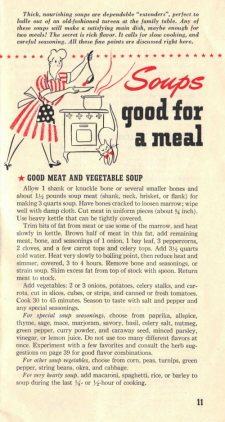 GOOD MEAT AND VEGETABLE SOUP
Allow 1 shank or knuckle bone or several smaller bones and about 1 1/2 pounds soup meat (shank, neck, brisket, or flank) for making 3 quarts soup. Have bones cracked to loosen marrow; wipe well with damp cloth. Cut meat in uniform pieces (about 3/4 inch). Use heavy kettle that can be tightly covered.
Trim bits of fat from meat or use some of the marrow, and heat slowly in kettle. Brown half of meat in this fat, add remaining meat, bone, and seasonings of 1 onion, 1 bay leaf, 3 peppercorns, 2 cloves, and a few carrot tops and celery tops. Add 3 1/2 quarts cold water. Heat very slowly to boiling point, then reduce heat and simmer, covered, 3 to 4 hours. Remove bone and seasonings, or strain soup. Skim excess fat from top of stock with spoon. Return meat to stock.
Add vegetables: 2 or 3 onions, potatoes, celery stalks, and carrots, cut in slices, cubes, or strips, and canned or fresh tomatoes. Cook 30 to 45 minutes. Season to taste with salt and pepper and any special seasonings.
For special soup seasonings, choose from paprika, allspice, thyme, sage, mace, marjoram, savory, basil, celery salt, nutmeg, green pepper, curry powder, and caraway seed, minced parsley, vinegar, or lemon juice. Do not use too many different flavors at once. Experiment with a few favorites and consult the herb suggestions on page 39 for good flavor combinations.
For other soup vegetables, choose from corn, peas, turnips, green pepper, string beans, okra, and cabbage.
For very hearty soup, add macaroni, spaghetti, rice, or barley to soup during the last 1/4- or 1/2-hour of cooking.
A MODERN SOUP POT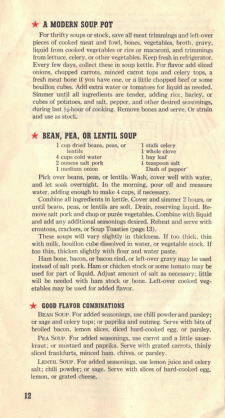 For thrifty soups or stock, save all meat trimmings and left-over pieces of cooked meat and fowl, bones, vegetables, broth, gravy, liquid from cooked vegetables or rice or macaroni, and trimmings from lettuce, celery, or other vegetables. Keep fresh in refrigerator. Every few days, collect these in soup kettle. For flavor add sliced onions, chopped carrots, minced carrot tops and celery tops, a fresh meat bone if you have one, or a little chopped beef or some bouillon cubes. Add extra water or tomatoes for liquid as needed. Simmer until all ingredients are tender, adding rice, barley, or cubes of potatoes, and salt, pepper, and other desired seasonings, during last 1/2-hour of cooking. Remove bones and serve. Or strain and use as stock.
BEAN, PEA, OR LENTIL SOUP
1 cup dried beans, peas, or lentils
4 cups cold water
2 ounces salt pork
1 medium onion
1 stalk celery
1 whole clove
1 bay leaf
1 teaspoon salt
Dash of pepper
Pick over beans, peas, or lentils. Wash, cover well with water, and let soak overnight. In the morning, pour off and measure water, adding enough to make 4 cups, if necessary.
Combine all ingredients in kettle. Cover and simmer 2 hours, or until beans, peas, or lentils are soft. Drain, reserving liquid. Remove salt pork and chop or puree vegetables. Combine with liquid and add any additional seasonings desired. Reheat and serve with croutons, crackers, or Soup Toasties (page 13).
These soups will vary slightly in thickness. If too thick, thin with milk, bouillon cube dissolved in water, or vegetable stock. If too thin, thicken slightly with flour and water paste.
Ham bone, bacon, or bacon rind, or left-over gravy may be used instead of salt pork. Ham or chicken stock or some tomato may be used for part of liquid. Adjust amount of salt as necessary; little will be needed with ham stock or bone. Left-over cooked vegetables may be used for added flavor.
GOOD FLAVOR COMBINATIONS
BEAN SOUP. For added seasonings, use chili powder and parsley; or sage and celery tops; or paprika and nutmeg. Serve with bits of broiled bacon, lemon slices, diced hard-cooked egg, or parsley.
PEA SOUP. For added seasonings, use carrot and a little sauerkraut; or mustard and paprika. Serve with grated carrots, thinly sliced frankfurts, minced ham, chives, or parsley.
LENTIL SOUP. For added seasonings, use lemon juice and celery salt; chili powder; or sage. Serve with slices of hard-cooked egg, lemon, or grated cheese.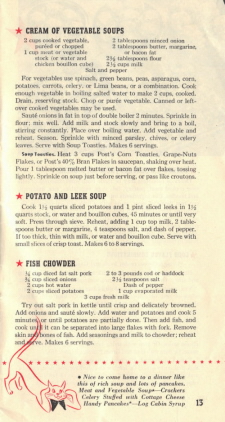 CREAM OF VEGETABLE SOUPS
2 cups cooked vegetable, pureed or chopped
1 cup meat or vegetable stock (or water and chicken bouillon cube)
2 tablespoons minced onion
2 tablespoons butter, margarine, or bacon fat
2 1/2 tablespoons flour
2 1/2 cups milk
Salt and pepper
For vegetables use spinach, green beans, peas, asparagus, corn, potatoes, carrots, celery, or Lima beans, or a combination. Cook enough vegetable in boiling salted water to make 2 cups, cooked. Drain, reserving stock. Chop or puree vegetable. Canned or left-over cooked vegetables may be used.
Sauté onions in fat in top of double boiler 2 minutes. Sprinkle in flour; mix well. Add milk and stock slowly and bring to a boil, stirring constantly. Place over boiling water. Add vegetable and reheat. Season. Sprinkle with minced parsley, chives, or celery leaves. Serve with Soup Toasties. Makes 6 servings.
Soup Toasties. Heat 3 cups Post's Corn Toasties, Grape-Nuts Flakes, or Post's 40% Bran Flakes in saucepan, shaking over heat. Pour 1 tablespoon melted butter or bacon fat over flakes, tossing lightly. Sprinkle on soup just before serving, or pass like croutons.
POTATO AND LEEK SOUP
Cook 1 1/2 quarts sliced potatoes and 1 pint sliced leeks in 1 1/2 quarts stock, or water and bouillon cubes, 45 minutes or until very soft. Press through sieve. Reheat, adding 1 cup top milk, 2 tablespoons butter or margarine, 4 teaspoons salt, and dash of pepper. If too thick, thin with milk, or water and bouillon cube. Serve with small slices of crisp toast. Makes 6 to 8 servings.
FISH CHOWDER
1/4 cup diced fat salt pork
3/4 cup sliced onions
2 cups hot water
2 cups sliced potatoes
2 to 3 pounds cod or haddock
2 1/2 teaspoons salt
Dash of pepper
1 cup evaporated milk
3 cups fresh milk
Try out salt pork in kettle until crisp and delicately browned. Add onions and sauté slowly. Add water and potatoes and cook 5 minutes, or until potatoes are partially done. Then add fish, and cook until it can be separated into large flakes with fork. Remove skin and bones of fish. Add seasonings and milk to chowder; reheat and serve. Makes 6 servings.
Nice to come home to a dinner like this of rich soup and lots of pancakes. Meat and Vegetable Soup*–Crackers Celery Stuffed with Cottage Cheese Handy Pancakes*–Log Cabin Syrup.
More Recipes For You To Enjoy: