This recipe was written on a lined index card and found in a large collection, date unknown. I've typed it below along with a scanned copy (front side only), spelling corrected.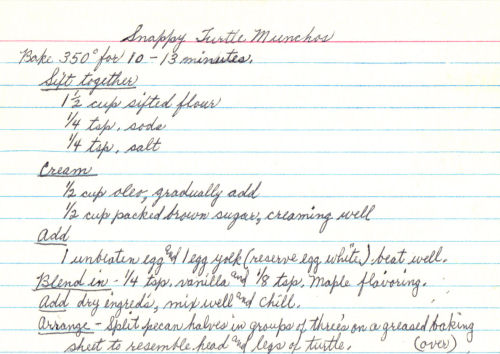 Snappy Turtle Munchos
Bake 350° for 10-13 minutes.
Sift together:
1 1/2 cups sifted flour
1/4 tsp. soda
1/4 tsp. salt
Cream:
1/2 cup oleo, gradually add
1/2 cup packed brown sugar, creaming well
Add:
1 unbeaten egg and 1 egg yolk (reserve egg white) beat well.
Blend in: 1/4 tsp. vanilla and 1/8 tsp. Maple flavoring.
Add dry ingreds, mix well and chill.
Arrange – Split pecan halves in groups of threes on a greased baking sheet to resemble head and legs of turtle.
Shape – by rounded tsp. into balls; dip bottoms into unbeaten egg white and press lightly onto nuts so tips of nuts will show.
Bake 350° – 10 to 13 min.
Cool and frost with Chocolate Frosting
Chocolate Frosting
Melt:
2 squares (2 oz.) unsweetened chocolate or 1/3 cup semi-sweet chocolate pieces in 1/4 c. milk and 1 Tblsp. oleo, blend until smooth.
Remove from heat.
Add 1 cup sifted confectioners sugar.
Beat until smooth and glossy.
If it's too thin – keep adding sugar till it's the right consistency.
More Recipes For You To Enjoy: