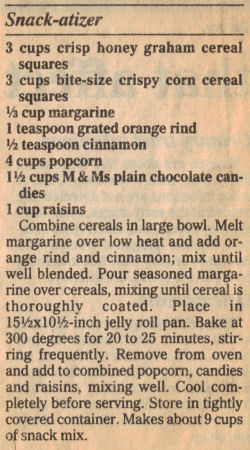 This snack recipe was clipped from a newspaper, date unknown. Recipe is typed below along with a scanned copy.
Snack-atizer
3 cups crisp honey graham cereal squares
3 cups bite-size crispy corn cereal squares
1/3 cup margarine
1 teaspoon grated orange rind
1/2 teaspoon cinnamon
4 cups popcorn
1 1/2 cups M & Ms plain chocolate candies
1 cup raisins
Combine cereals in large bowl. Melt margarine over low heat and add orange rind and cinnamon; mix until well blended. Pour seasoned margarine over cereals, mixing until cereal is thoroughly coated. Place in 15½x10½-inch jelly roll pan. Bake at 300 degrees for 20 to 25 minutes, stirring frequently. Remove from oven and add to combined popcorn, candies and raisins, mixing well. Cool completely before serving. Store in tightly covered container. Makes about 9 cups of snack mix.
More Recipes For You To Enjoy: