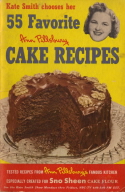 Here is page 5 from the vintage cookbook "Kate Smith chooses her 55 Favorite Ann Pillsbury CAKE RECIPES". This was published in 1952 by Pillsbury Mills, Inc. Kate Smith was a popular singer and radio personality with a career that began in the 1930s.
You can view all the pages in this cookbook by visiting this category: 55 Favorite Cake Recipes: Kate Smith, just click a page title to view that section. There is a scan of the page included below, you can click the image to view a larger copy.
Small Quick-Mix Sponge Cake
(Makes 9-inch tube cake.)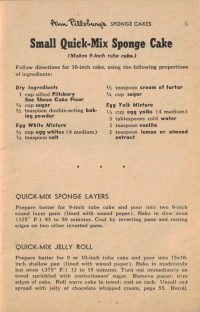 Follow directions for 10-inch cake, using the following proportions of ingredients:
Dry Ingredients
1 cup sifted Pillsbury Sno Sheen Cake Flour
3/4 cup sugar
1/2 teaspoon double-acting baking powder
Egg White Mixture
1/2 cup egg whites (4 medium)
1/2 teaspoons salt
1/2 teaspoon cream of tartar
1/4 cup sugar
Egg Yolk Mixture
1/3 cup egg yolks (4 medium)
3 tablespoons cold water
1 teaspoon vanilla
1 teaspoon lemon or almond extract
QUICK-MIX SPONGE LAYERS
Prepare batter for 9-inch tube cake and pour into two 9-inch round layer pans (lined with waxed paper). Bake in slow oven (325° F.) 45 to 50 minutes. Cool by inverting pans and resting edges on two other inverted pans.
QUICK-MIX JELLY ROLL
Prepare batter for 9 or 10-inch tube cake and pour into 15×10-inch shallow pan (lined with waxed paper). Bake in moderately hot oven (375° F.) 12 to 15 minutes. Turn out immediately on towel sprinkled with confectioners' sugar. Remove paper; trim edges of cake. Roll warm cake in towel; cool on rack. Unroll and spread with jelly or chocolate whipped cream, page 55. Reroll.
More Recipes For You To Enjoy: