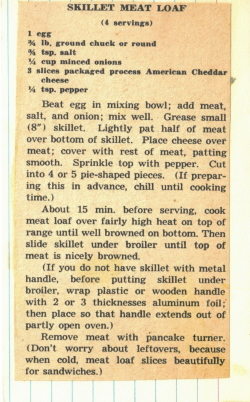 This is a recipe snipped from a magazine. Glued on an index card–no date.
SKILLET MEAT LOAF
(4 servings)
1 egg
3/4 lb. ground chuck or round
3/4 tsp. salt
1/4 cup minced onions
3 slices packaged process American Cheddar cheese
1/4 tsp. pepper
Beat egg in mixing bowl; add meat, salt, and onion; mix well. Grease small (8″) skillet. Lightly pat half of meat over bottom of skillet. Place cheese over meat; cover with rest of meat, patting smooth. Sprinkle top with pepper. Cut into 4 or 5 pie-shaped pieces. (If preparing this in advance, chill until cooking time.)
About 15 min. before serving, cook meat loaf over fairly high heat on top of range until well browned on bottom. Then slide skillet under broiler until top of meat is nicely browned.
(If you do not have skillet with metal handle, before putting skillet under broiler, wrap plastic or wooden handle with 2 or 3 thicknesses aluminum foil; then place so that handle extends out of partly open oven.)
Remove meat with pancake turner. (Don't worry about leftovers, because when cold, meat loaf slices beautifully for sandwiches.)
More Recipes For You To Enjoy: