This handwritten recipe card is marked "from the recipe file of Kitty" and was found in a large collection, date unknown. Recipe is typed below along with a scanned copy (front side only).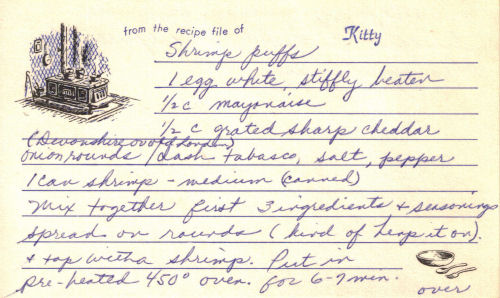 Shrimp Puffs
1 egg white, stiffly beaten
1/2 c mayonnaise
1/2 c grated sharp cheddar
(Devonshire or Old London)
Onion rounds
dash Tabasco, salt, pepper
1 can shrimp – medium (canned)
Mix together first 3 ingredients & seasonings.
Spread on rounds (kind of heap it on). & top with a shrimp.
Put in pre-heated 450° oven for 6-7 min. or until puffy & brown. Or under broiler! But watch carefully they burn very easily.
More Recipes For You To Enjoy: