This recipe was clipped from a newspaper, date unknown.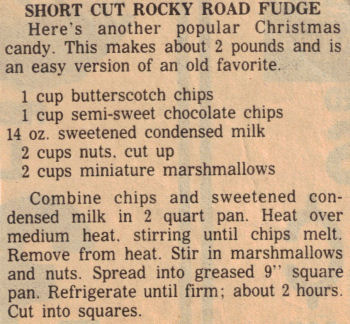 SHORT CUT ROCKY ROAD FUDGE
Here's another popular Christmas candy. This makes about 2 pounds and is an easy version of an old favorite.
1 cup butterscotch chips
1 cup semi-sweet chocolate chips
14 oz. sweetened condensed milk
2 cups nuts, cut up
2 cups miniature marshmallows
Combine chips and sweetened condensed milk in 2 quart pan. Heat over medium heat, stirring until chips melt. Remove from heat. Stir in marshmallows and nuts. Spread into greased 9″ square pan. Refrigerate until firm; about 2 hours. Cut into squares.
More Recipes For You To Enjoy: