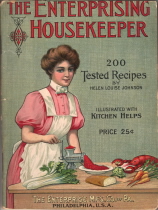 This is page 91 from the vintage booklet The Enterprising Housekeeper from the sixth edition (1906).
Sausage Stuffer, Lard and Fruit Press
Points of Merit
The Iron Cylinder is bored True, so that the Plunger plate fits perfectly in the cylinder, from top to bottom.
Lips on Tin Cylinder, make burning of hands an impossibility.
Corrugations in spout prevent air entering Casing, thus assuring preservation of sausage. The only Stuffer possessing this feature, which is Patented.
It can also be used as a fruit press for making wines, jellies, etc., from berries of all kinds, Grapes, Currants, Quinces, Pineapples, etc.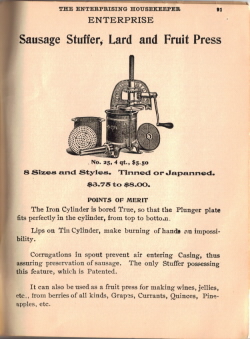 This is the last page from the book (other than the back index).
More Recipes For You To Enjoy: