This vintage recipe was clipped from a newspaper and found in a large collection, date unknown. I've typed it below along with a scanned copy.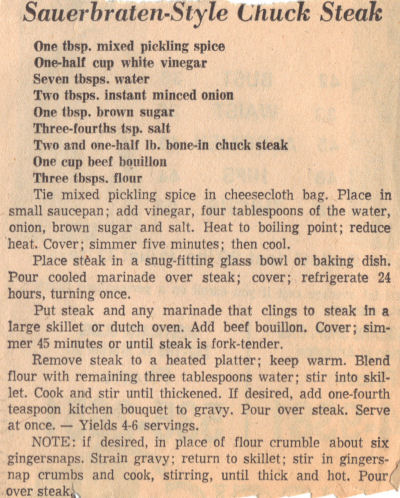 Sauerbraten-Style Chuck Steak
One tbsp. mixed pickling spice
One-half cup white vinegar
Seven tbsps. water
Two tbsps. instant minced onion
One tbsp. brown sugar
Three-fourths tsp. salt
Two and one-half lb. bone-in chuck steak
One cup beef bouillon
Three tbsps. flour
Tie mixed pickling spice in cheesecloth bag. Place in small saucepan; add vinegar, four tablespoons of the water, onion, brown sugar and salt. Heat to boiling point; reduce heat. Cover; simmer five minutes; then cool.
Place steak in a snug-fitting glass bowl or baking dish. Pour cooled marinade over steak; cover; refrigerate 24 hours, turning once.
Put steak and any marinade that clings to steak in a large skillet or dutch oven. Add beef bouillon. Cover; simmer 45 minutes or until steak is fork-tender.
Remove steak to a heated platter; keep warm. Blend flour with remaining three tablespoons water; stir into skillet. Cook and stir until thickened. If desired, add one-fourth teaspoon kitchen bouquet to gravy. Pour over steak. Serve at once.–Yields 4-6 servings.
NOTE: if desired, in place of flour crumble about six gingersnaps. Strain gravy; return to skillet; stir in gingersnap crumbs and cook, stirring, until thick and hot. Pour over steak.
More Recipes For You To Enjoy: