This is part of a promo recipe folder by Campbell Soup Company that was published in 1993, it looks like a magazine pull-out. Recipe is typed below along with a scanned copy.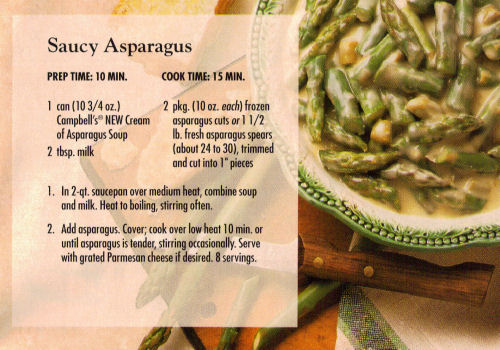 Saucy Asparagus
PREP TIME: 10 MIN.
COOK TIME: 15 MIN.
1 can (10 3/4 oz.) Campbell's NEW Cream of Asparagus Soup
2 tbsp. milk
2 pkg. (10 oz. each) frozen asparagus cuts or 1 1/2 lb. fresh asparagus spears (about 24 to 30), trimmed and cut into 1″ pieces
In 2-qt. saucepan over medium heat, combine soup and milk. Heat to boiling, stirring often.
Add asparagus. Cover; cook over low heat 10 min. or until asparagus is tender, stirring occasionally. Serve with grated Parmesan cheese if desired. 8 servings.
More Recipes For You To Enjoy: