This recipe was written on an index card and found in a large collection, date unknown. It includes a frosting recipe for the brownies (on the other side of the card) that I've typed out and included below (scanned copies of both sides).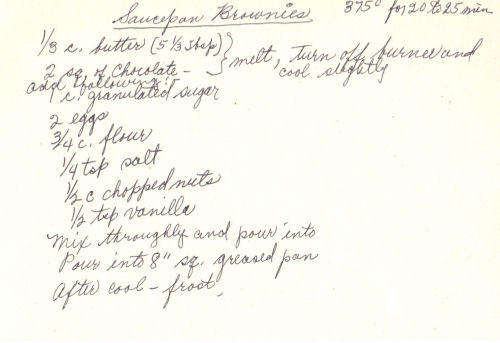 Saucepan Brownies
375° for 20 to 25 min
Melt, turn off burner and cool slightly:
1/3 c. butter (5 1/3 Tbsp)
2 sq. of chocolate
Add following:
1 c. granulated sugar
2 eggs
3/4 c. flour
1/4 tsp salt
1/2 c chopped nuts
1/2 tsp vanilla
Mix thoroughly and pour into 8″ sq. greased pan. After cool – frost.
Frosting for Brownies:
Combine in saucepan and boil for 1 minute:
1 c. sugar
1/4 c. butter
2 Tbs. cocoa
1/4 c. milk
2 tsp light corn syrup
Add 1/2 tsp vanilla after mixture is cooled and then beat before frosting brownies.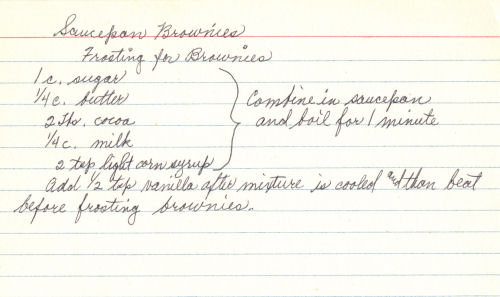 More Recipes For You To Enjoy: