Magazine clipping. No date, magazine unknown but probably Parade Magazine.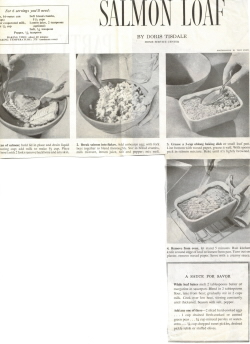 SALMON LOAF
BY DORIS TISDALE
HOME SERVICE CENTER
For 6 servings you'll need:
Salmon, 16-ounce can (2 cups)
Milk, or evaporated milk, about 1/4 cup
Egg, 1
Soft bread crumbs, 1 1/2 cups
Lemon juice, 2 teaspoons (optional)
Salt, 1/4 teaspoon
Pepper, 1/8 teaspoon
BAKING TIME: about 40 minutes
BAKING TEMPERATURE: 375° (moderate oven)
Open can of salmon; hold lid in place and drain liquid into measuring cup; add milk to make 1/2 cup. Place salmon in bowl; with 2 forks remove backbone and any skin.
Break salmon into flakes. Add unbeaten egg; with fork beat together to blend thoroughly. Stir in bread crumbs, milk mixture, lemon juice, salt and pepper; mix well.
Grease a 3-cup oblong baking dish or small loaf pan. Line bottom with waxed paper, grease it well. With spoon pack in salmon mixture. Bake until it's lightly browned.
Remove from oven, let stand 5 minutes. Run kitchen knife around edge of loaf to loosen from pan. Turn out on platter, remove waxed paper. Serve with a creamy sauce.
A SAUCE FOR SAVOR
While loaf bakes melt 2 tablespoons butter or margarine in saucepan. Blend in 2 tablespoons flour, take from heat; gradually stir in 2 cups milk. Cook over low heat, stirring constantly until thickened. Season with salt, pepper.
Add any one of these–2 sliced hard-cooked eggs . . . 1 cup drained fresh-cooked or canned green peas . . . 1/4 cup minced parsley or watercress . . . 1/4 cup chopped sweet pickles, drained pickle relish or stuffed olives.
More Recipes For You To Enjoy: