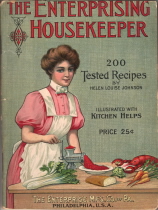 Here are pages 47, 48 and 49 from the vintage booklet The Enterprising Housekeeper from the sixth edition (1906).
Salads
There is, perhaps, no dish which adds more to the luncheon or tea than a nicely prepared salad. In many households a salad is considered an expensive dish–something too good for family use, to be reserved for "company." This is a mistake, for here, as elsewhere, the "left-overs" may be made to take their place and form appetizing dishes. Cauliflower, celery, peas, beans, spinach, cabbage, potatoes, beets, asparagus, tomatoes, the various greens, such as lettuce, corn, salad, chicory, dandelions, cresses, all these and more may be used separately or in combination for salads.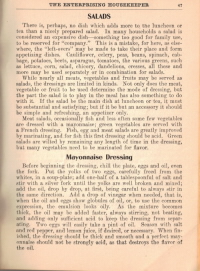 While nearly all meats, vegetables and fruits may be served as salads, the dressings are limited in kinds. Not only does the meat, vegetable or fruit to be used determine the mode of dressing, but the part the salad is to play in the meal has also something to do with it. If the salad be the main dish at luncheon or tea, it must be substantial and satisfying; but if it be but an accessory it should be simple and refreshing, an appetizer only.
Meat salads, occasionally fish and less often some few vegetables are dressed with a mayonnaise; green vegetables are served with a french dressing. Fish, egg and meat salads are greatly improved by marinating, and for fish this first dressing should be acid. Green salads are wilted by remaining any length of time in the dressing, but many vegetables need to be marinated for flavor.
Mayonnaise Dressing
Before beginning the dressing, chill the plate, eggs and oil, even the fork. Put the yolks of two eggs, carefully freed from the whites, in a soup-plate; add one-half of a tablespoonful of salt and stir with a silver fork until the yolks are well broken and mixed; add the oil, drop by drop, at first, being careful to always stir in the same direction. Add a drop of vinegar when needed, that is, when the oil and eggs show globules of oil, or, to use the common expression, the emulsion looks oily. As the mixture becomes thick, the oil may be added faster, always stirring, not beating, and adding only sufficient acid to keep the dressing from separating. Two eggs will easily take a pint of oil. Season with salt and red pepper, and lemon juice, if desired, or necessary. When finished, the dressing should be thick and smooth and a perfect mayonnaise should not be strongly acid, as that destroys the flavor of the oil.
French Dressing
Use two-thirds oil to one-third vinegar. For every tablespoonful of vinegar and three of oil take one-half of a tablespoonful of salt and one-fourth of a teaspoonful of black or white pepper. Mix the salt and pepper with the oil and add the vinegar slowly, stirring all the while, until it becomes white and a little thickened. The dressing must be used or served at once or it will separate.
To marinate is to cover with French dressing and allow to stand two or three hours. When ready to serve, the dressing not absorbed should be drained from the meat or vegetable marinated and the salad mixed with the dressing to be used.
Boiled Dressing
2 eggs
1 teaspoonful of salt
1/4 cupful of butter
1 cupful of vinegar
1/4 teaspoonful of pepper
1/2 teaspoonful of sugar
Beat the eggs light without separating; add the vinegar, salt, pepper, sugar and butter melted. Mix well and put over hot water. Stir constantly until the dressing is thickened; cool and serve. If too thick, thin with cream or olive oil, as desired.
Russian Salads
A Russian salad is but a mixture of cold, chopped meats, and may be varied at will to suit the taste, or the exigencies of the situation. Beef, ham, tongue, chicken, lamb, mutton and veal may all be mixed after being finely chopped, but it rarely happens in the home that all these meats are on hand. A mixture of chicken, ham and tongue, with mushrooms and anchovies, may be served on lettuce with a French dressing or sauce Tartare. Roast beef with anchovies make a very good salad, and veal, turkey or chicken with tongue another. Small pieces of cold game may be used and are delicious with a sauce Tartare.
Macedoine Salads
These are mixtures of vegetables and, as with the Russian salad, the mixture depends upon what you have on hand. Carrots, turnips, string beans and peas; asparagus tips with string beans; cauliflower and cresses; potatoes and beets; every little thing counts if used with care. A vegetable salad needs to be dressed carefully that it may look well, and the vegetables should not be broken into too small pieces.
Tomatoes may be stuffed with finely-chopped meat mixed with a mayonnaise, or chicken and celery chopped and dressed together.
Pickled lambs tongues may be chopped and mixed with one-half of a cup of spinach or greens, and dressed with French dressing.
Pieces of cold fish, even smoked and salt, may be utilized.
Eggs may be stuffed with seasoned, chopped meat, and when served as a salad make a hearty and appetizing summer luncheon dish.
Water cress and cabbage shredded together and dressed with a French dressing make an especially palatable salad. A mixture of one-third dandelion with two-thirds lettuce make another, and the celebrated Waldorf salad is but apple and celery chopped together and served with a French dressing delicately flavored with onion.
Chicken Salad
Chop cold, cooked chicken meat into even-sized pieces, not too small. Select the tender stalks of celery, as the outer tough pieces will spoil the salad. Wash, scrape and chop into small pieces. For every two cupfuls of chicken meat take one cupful of celery. Marinate the chicken and keep in a cool place until ready to serve. Mix with the celery. For every quart of salad take one cupful of thick mayonnaise dressing, mix gently with the salad, leaving sufficient to use as a garnish with lettuce leaves or celery tops.
Lobster Salad
Cut the boiled lobster meat into as even pieces as possible. Marinate and put in a cool place until wanted. When ready to serve, mix with shredded lettuce leaves and mayonnaise dressing in the proportion of one-half cupful of dressing to every pint of salad. Serve on curly lettuce leaves, garnished with the dressing and the powdered coral of the lobster if desired. Fish salads of any description should be served at once after mixing.
Cold Slaw
Select a firm cabbage and shred very fine. Mix with a boiled dressing while the latter is hot and put away to cool. Serve when cold. Or the cabbage may be shredded and mixed with French dressing.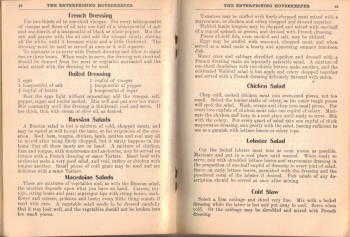 More Recipes For You To Enjoy: