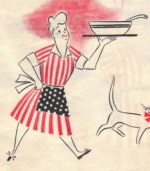 Here are pages 22 and 23 of the WWII ration cookbook titled "Recipes For Today" that was published by General Foods Corporation in 1943. This was during the second world war when the United States was experiencing food rations and shortages (sugar, meat, etc.) and homemakers were looking for creative ways to feed their families.
You can view all the pages in this little book by visiting this category: Recipes For Today (WWII), just click a page title to view that section of the book. You'll find scans of the pages included below (click pictures to view a larger size) as well as a typed version for easy printing.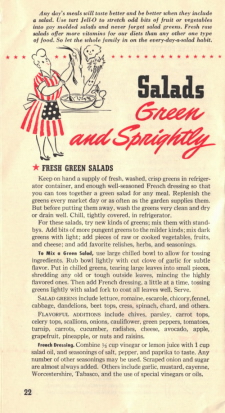 Any day's meals will taste better and be better when they include a salad. Use tart Jell-O to stretch odd bits of fruit or vegetables into gay molded salads and never forget salad greens. Fresh raw salads offer more vitamins for our diets than any other one type of food. So let the whole family in on the every-day-a-salad habit.
Salads
Green and Sprightly
FRESH GREEN SALADS
Keep on hand a supply of fresh, washed, crisp greens in refrigerator container, and enough well-seasoned French dressing so that you can toss together a green salad for any meal. Replenish the greens every market day or as often as the garden supplies them. But before putting them away, wash the greens very clean and dry or drain well. Chill, tightly covered, in refrigerator.
For these salads, try new kinds of greens; mix them with stand-bys. Add bits of more pungent greens to the milder kinds; mix dark greens with light; add pieces of raw or cooked vegetables, fruits, and cheese; and add favorite relishes, herbs, and seasonings.
To Mix a Green Salad, use large chilled bowl to allow for tossing ingredients. Rub bowl lightly with cut clove of garlic for subtle flavor. Put in chilled greens, tearing large leaves into small pieces, shredding any old or tough outside leaves, mincing the highly flavored ones. Then add French dressing, a little at a time, tossing greens lightly with salad fork to coat all leaves well. Serve.
SALAD GREENS include lettuce, romaine, escarole, chicory, fennel, cabbage, dandelions, beet tops, cress, spinach, chard, and others.
FLAVORFUL ADDITIONS include chives, parsley, carrot tops, celery tops, scallions, onions, cauliflower, green peppers, tomatoes, turnip, carrots, cucumber, radishes, cheese, avocado, apple, grapefruit, pineapple, or nuts and raisins.
French Dressing. Combine 1/3 cup vinegar or lemon juice with 1 cup salad oil, and seasonings of salt, pepper, and paprika to taste. Any number of other seasonings may be used. Scraped onion and sugar are almost always added. Others include garlic, mustard, cayenne, Worcestershire, Tabasco, and the use of special vinegars or oils.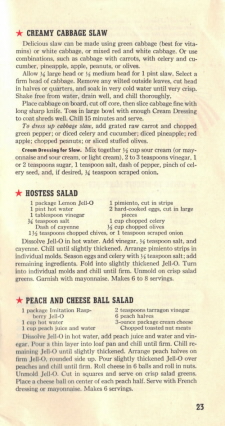 CREAMY CABBAGE SLAW
Delicious slaw can be made using green cabbage (best for vitamins) or white cabbage, or mixed red and white cabbage. Or use combinations, such as cabbage with carrots, with celery and cucumber, pineapple, apple, peanuts, or olives.
Allow 1/4 large head or 1/3 medium head for 1 pint slaw. Select a firm head of cabbage. Remove any wilted outside leaves, cut head in halves or quarters, and soak in very cold water until very crisp. Shake free from water, drain well, and chill thoroughly.
Place cabbage on board, cut off core, then slice cabbage fine with long sharp knife. Toss in large bowl with enough Cream Dressing to coat shreds well. Chill 15 minutes and serve.
To dress up cabbage slaw, add grated raw carrot and chopped green pepper; or diced celery and cucumber; diced pineapple; red apple; chopped peanuts; or sliced stuffed olives.
Cream Dressing for Slaw. Mix together 1/2 cup sour cream (or mayonnaise and sour cream, or light cream), 2 to 3 teaspoons vinegar, 1 or 2 teaspoons sugar, 1 teaspoon salt, dash of pepper, pinch of celery seed, and, if desired, 1/4 teaspoon scraped onion.
HOSTESS SALAD
1 package Lemon Jell-O
1 pint hot water
1 tablespoon vinegar
1/4 teaspoon salt
Dash of cayenne
1 1/2 teaspoons chopped chives, or 1 teaspoon scraped onion
1 pimiento, cut in strips
2 hard-cooked eggs, cut in large pieces
1 cup chopped celery
1/3 cup chopped olives
Dissolve Jell-O in hot water. Add vinegar, 1/8 teaspoon salt, and cayenne. Chill until slightly thickened. Arrange pimiento strips in individual molds. Season eggs and celery with 1/8 teaspoon salt; add remaining ingredients. Fold into slightly thickened Jell-O. Turn into individual molds and chill until firm. Unmold on crisp salad greens. Garnish with mayonnaise. Makes 6 to 8 servings.
PEACH AND CHEESE BALL SALAD
1 package Imitation Raspberry Jell-O
1 cup hot water
1 cup peach juice and water
2 teaspoons tarragon vinegar
6 peach halves
3-ounce package cream cheese
Chopped toasted nut meats
Dissolve Jell-O in hot water, add peach juice and water and vinegar. Pour a thin layer into loaf pan and chill until firm. Chill remaining Jell-O until slightly thickened. Arrange peach halves on firm Jell-O, rounded side up. Pour slightly thickened Jell-O over peaches and chill until firm. Roll cheese in 6 balls and roll in nuts. Unmold Jell-O. Cut in squares and serve on crisp salad greens. Place a cheese ball on center of each peach half. Serve with French dressing or mayonnaise. Makes 6 servings.
More Recipes For You To Enjoy: