This recipe was written on a lined index card and found in a large collection, date unknown. I've typed it below along with a scanned copy.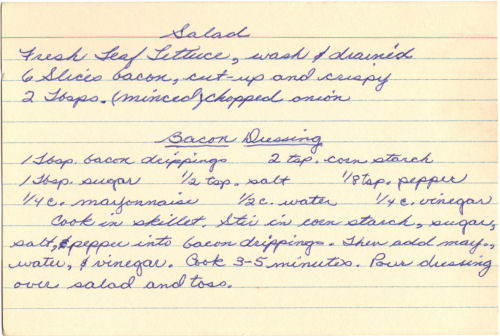 Salad
Fresh leaf lettuce, wash & drained
6 slices bacon, cut-up and crispy
2 Tbsps. (minced) chopped onion
Bacon Dressing
1 Tbsp. bacon drippings
1 Tbsp. sugar
1/4 c. mayonnaise
2 tsp. corn starch
1/2 tsp. salt
1/8 tsp. pepper
1/2 c. water
1/4 c. vinegar
Cook in skillet. Stir in corn starch, sugar, salt & pepper into bacon drippings. Then add mayo, water & vinegar. Cook 3-5 minutes. Pour dressing over salad and toss.
More Recipes For You To Enjoy: