This interesting recipe for a chilled soup was clipped from a magazine or newspaper then pasted onto a white index card. Date is unknown but the recipes in this collection were mainly from the 1940s through the 1960s. Recipe is typed below along with a scanned copy.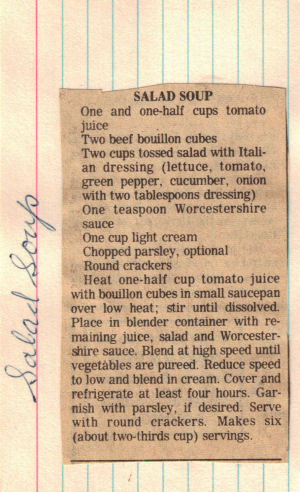 SALAD SOUP
One and one-half cups tomato juice
Two beef bouillon cubes
Two cups tossed salad with Italian dressing (lettuce, tomato, green pepper, cucumber, onion with two tablespoons dressing)
One teaspoon Worcestershire sauce
One cup light cream
Chopped parsley, optional
Round crackers
Heat one-half cup tomato juice with bouillon cubes in small saucepan over low heat; stir until dissolved. Place in blender container with remaining juice, salad and Worcestershire sauce. Blend at high speed until vegetables are pureed. Reduce speed to low and blend in cream. Cover and refrigerate at least four hours. Garnish with parsley, if desired. Serve with round crackers. Makes six (about two-thirds cup) servings.
More Recipes For You To Enjoy: