This promo recipe folder by Mazola is packed with recipes and some tips too. This was found in a large collection, date unknown. Recipe sheet is typed below along with scanned copies of both front and back (the side with the recipes is clickable to view larger).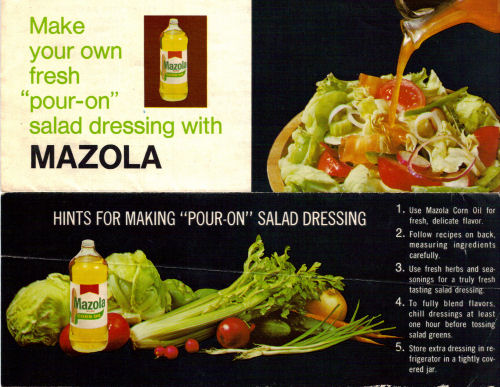 Make your own fresh "pour-on" salad dressing with
MAZOLA
HINTS FOR MAKING "POUR-ON" SALAD DRESSING
Use Mazola Corn Oil for fresh, delicate flavor.
Follow recipes on back, measuring ingredients carefully.
Use fresh herbs and seasonings for a truly fresh tasting salad dressing.
To fully blend flavors, chill dressings at least one hour before tossing salad greens.
Store extra dressing in refrigerator in a tightly covered jar.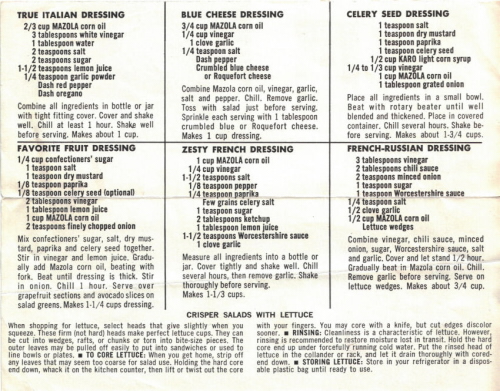 TRUE ITALIAN DRESSING
2/3 cup MAZOLA corn oil
3 tablespoons white vinegar
1 tablespoon water
2 teaspoons salt
2 teaspoons sugar
1-1/2 teaspoons lemon juice
1/4 teaspoon garlic powder
Dash red pepper
Dash oregano
Combine all ingredients in bottle or jar with tight fitting cover. Cover and shake well. Chill at least 1 hour. Shake well before serving. Makes about 1 cup.
BLUE CHEESE DRESSING
3/4 cup MAZOLA corn oil
1/4 cup vinegar
1 clove garlic
1/4 teaspoon salt
Dash pepper
Crumbled blue cheese or Roquefort cheese
Combine Mazola corn oil, vinegar, garlic, salt and pepper. Chill. Remove garlic. Toss with salad just before serving. Sprinkle each serving with 1 tablespoon crumbled blue or Roquefort cheese. Makes 1 cup dressing.
CELERY SEED DRESSING
1 teaspoon salt
1 teaspoon dry mustard
1 teaspoon paprika
1 teaspoon celery seed
1/2 cup KARO light corn syrup
1/4 to 1/3 cup vinegar
1 cup MAZOLA corn oil
1 tablespoon grated onion
Place all ingredients in a small bowl. Beat with rotary beater until well blended and thickened. Place in covered container. Chill several hours. Shake before serving. Makes about 1-3/4 cups.
FAVORITE FRUIT DRESSING
1/4 cup confectioners' sugar
1 teaspoon salt
1 teaspoon dry mustard
1/8 teaspoon paprika
1/8 teaspoon celery seed (optional)
2 tablespoons vinegar
1 tablespoon lemon juice
1 cup MAZOLA corn oil
2 teaspoons finely chopped onion
Mix confectioners' sugar, salt, dry mustard, paprika and celery seed together. Stir in vinegar and lemon juice. Gradually add Mazola corn oil, beating with fork. Beat until dressing is thick. Stir in onion. Chill 1 hour. Serve over grapefruit sections and avocado slices on salad greens. Makes 1-1/4 cups dressing.
ZESTY FRENCH DRESSING
1 cup MAZOLA corn oil
1/4 cup vinegar
1-1/2 teaspoons salt
1/8 teaspoon pepper
1/4 teaspoon paprika
Few grains celery salt
1 teaspoon sugar
2 tablespoons ketchup
1 tablespoon lemon juice
1-1/2 teaspoons Worcestershire sauce
1 clove garlic
Measure all ingredients into a bottle or jar. Cover tightly and shake well. Chill several hours, then remove garlic. Shake thoroughly before serving.
Makes 1-1/3 cups.
FRENCH-RUSSIAN DRESSING
3 tablespoons vinegar
2 tablespoons chili sauce
2 teaspoons minced onion
1 teaspoon sugar
1 teaspoon Worcestershire sauce
1/4 teaspoon salt
1/2 clove garlic
1/2 cup MAZOLA corn oil
Lettuce wedges
Combine vinegar, chili sauce, minced onion, sugar, Worcestershire sauce, salt and garlic. Cover and let stand 1/2 hour. Gradually beat in Mazola corn oil. Chill. Remove garlic before serving. Serve on lettuce wedges. Makes about 3/4 cup.
CRISPER SALADS WITH LETTUCE
When shopping for lettuce, select heads that give slightly when you squeeze. These firm (not hard) heads make perfect lettuce cups. They can be cut into wedges, rafts, or chunks or torn into bite-size pieces. The outer leaves may be pulled off easily to put into sandwiches or used to line bowls or plates. TO CORE LETTUCE: When you get home, strip off any leaves that may seem too coarse for salad use. Holding the hard core end down, whack it on the kitchen counter, then lift or twist out the core with your fingers. You may core with a knife, but cut edges discolor sooner. RINSING: Cleanliness is a characteristic of lettuce. However, rinsing is recommended to restore moisture lost in transit. Hold the hard core end up under forcefully running cold water. Put the rinsed head of lettuce in the collander or rack, and let it drain thoroughly with cored-end down. STORING LETTUCE: Store in your refrigerator in a disposable plastic bag until ready to use.
More Recipes For You To Enjoy: