This promo recipe card from Time Life Books was found in a large collection, date unknown. I've typed the recipe below along with a scanned copy (of both sides).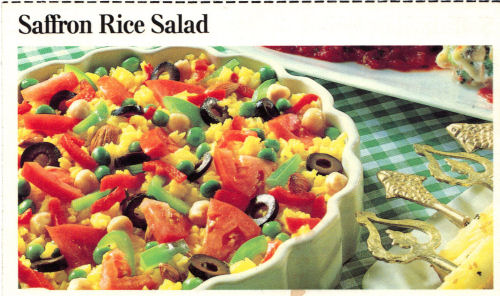 Saffron Rice Salad
Serves: 8
Working time: 15 minutes
Cooking time: 20 minutes
1 1/2 cups unprocessed long-grain rice
1/2 tsp. saffron threads dissolved in 1 tbsp. boiling water
1/2 sweet red pepper, seeded, deribbed and cut into thin slices
1/2 sweet green pepper, seeded, deribbed and cut into thin slices
1 ripe tomato, thinly sliced and coarsely chopped
1 cup cooked chick-peas
1 cup cooked fresh peas
1/3 cup black olives, thinly sliced
1/3 cup whole unskinned almonds
Vinaigrette Dressing
4 tbsp. red wine vinegar
1/4 tsp. salt
6 tbsp. virgin olive oil
2 tbsp. polyunsaturated oil
freshly ground black pepper
Put the rice in a pan, add 3 cups of boiling water and the dissolved saffron. Stir to distribute the saffron, and bring the liquid back to a boil. Cover and cook at a simmer for 20 minutes, or until the rice is tender and all the water is absorbed.
In a large bowl, make the vinaigrette by mixing the vinegar and salt together and slowly whisking in the oils, a few drops at a time. Season with pepper to taste. Add the rice to the bowl, together with the prepared vegetables. Toss all the ingredients until well coated with the vinaigrette.
Serve the salad either at room temperature or slightly chilled.
Editor's Note: Present on lettuce leaves for a light lunch or use as a summertime accompaniment to grilled meats.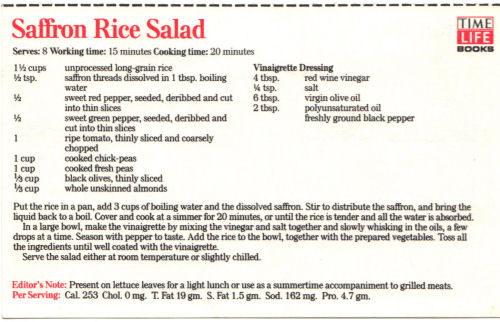 More Recipes For You To Enjoy: