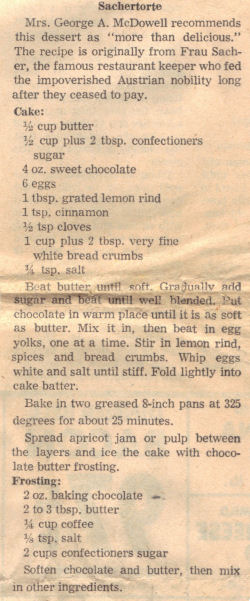 This recipe was clipped from a newspaper and found in a large collection, date unknown. I've typed it below along with a scanned copy.
Sachertorte
Mrs. George A. McDowell recommends this dessert as "more than delicious." The recipe is originally from Frau Sacher, the famous restaurant keeper who fed the impoverished Austrian nobility long after they ceased to pay.
Cake:
1/2 cup butter
1/2 cup plus 2 tbsp. confectioners sugar
4 oz. sweet chocolate
6 eggs
1 tbsp. grated lemon rind
1 tsp. cinnamon
1/2 tsp cloves
1 cup plus 2 tbsp. very fine white bread crumbs
1/4 tsp. salt
Beat butter until soft. Gradually add sugar and beat until well blended. Put chocolate in warm place until it is as soft as butter. Mix it in, then beat in egg yolks, one at a time. Stir in lemon rind, spices and bread crumbs. Whip eggs white and salt until stiff. Fold lightly into cake batter.
Bake in two greased 8-inch pans at 325 degrees for about 25 minutes.
Spread apricot jam or pulp between the layers and ice the cake with chocolate butter frosting.
Frosting:
2 oz. baking chocolate
2 to 3 tbsp. butter
1/4 cup coffee
1/8 tsp. salt
2 cups confectioners sugar
Soften chocolate and butter, then mix in other ingredients.
More Recipes For You To Enjoy: