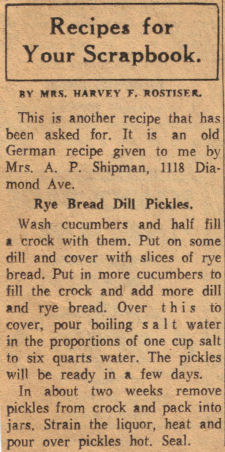 This recipe clipping comes from a large lot of old recipe clippings for pickles, jams, jellies, relishes and more. Date is unknown but the recipes in this lot suggest 1940s through to the 1960s. Recipe is typed below.
Before using this recipe, it's important to read this page, the "Safe Canning & Food Preservation" section.
Recipes for Your Scrapbook
By Mrs. Harvey F. Rostiser.
This is another recipe that has been asked for. It is an old German recipe given to me by Mrs. A. P. Shipman, 1118 Diamond Ave.
Rye Bread Dill Pickles.
Wash cucumbers and half fill a crock with them. Put on some dill and cover with slices of rye bread. Put in more cucumbers to fill the crock and add more dill and rye bread. Over this to cover, pour boiling salt water in the proportions of one cup salt to six quarts water. The pickles will be ready in a few days.
In about two weeks remove pickles from crock and pack into jars. Strain the liquor, heat and pour over pickles hot. Seal.
More Recipes For You To Enjoy: