This recipe was clipped from a newspaper and found in a large collection, date unknown. I've typed it below along with a scanned copy.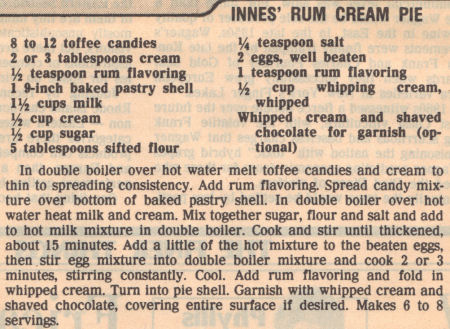 INNES' RUM CREAM PIE
8 to 12 toffee candies
2 or 3 tablespoons cream
1/2 teaspoon rum flavoring
1 9-inch baked pastry shell
1 1/2 cups milk
1/2 cup cream
1/2 cup sugar
5 tablespoons sifted flour
1/4 teaspoon salt
2 eggs, well beaten
1 teaspoon rum flavoring
1/2 cup whipping cream, whipped
Whipped cream and shaved chocolate for garnish (optional)
In double boiler over hot water melt toffee candies and cream to thin to spreading consistency. Add rum flavoring. Spread candy mixture over bottom of baked pastry shell. In double boiler over hot water heat milk and cream. Mix together sugar, flour and salt and add to hot milk mixture in double boiler. Cook and stir until thickened, about 15 minutes. Add a little of the hot mixture to the beaten eggs, then stir egg mixture into double boiler mixture and cook 2 or 3 minutes, stirring constantly. Cool. Add rum flavoring and fold in whipped cream. Turn into pie shell. Garnish with whipped cream and shaved chocolate, covering entire surface if desired. Makes 6 to 8 servings.
More Recipes For You To Enjoy: