This recipe was written on a lined index card and found in a large collection, date unknown. I've typed it below along with a scanned copy.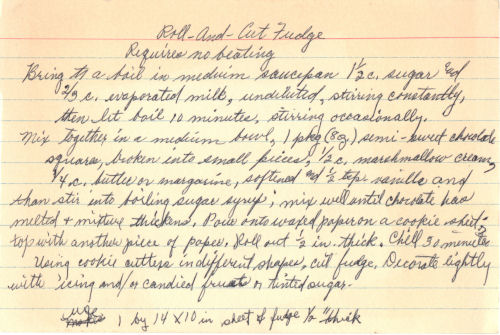 Roll-And-Cut Fudge
Requires no beating
Bring to a boil in medium saucepan 1 1/2 c. sugar and 2/3 c. evaporated milk, undiluted, stirring constantly, then let boil 10 minutes, stirring occasionally.
Mix together in a medium bowl, 1 pkg (8 oz.) semi-sweet chocolate squares, broken into small pieces, 1/2 c. marshmallow-cream, 1/4 c. butter or margarine, softened and 1/2 tsp. vanilla and then stir into boiling sugar syrup; mix well until chocolate has melted & mixture thickens. Pour onto waxed paper on a cookie sheet – top with another piece of paper. Roll out 1/2 in. thick. Chill 30 minutes.
Using cookie cutters in different shapes, cut fudge. Decorate lightly with icing and/or candied fruit or tinted sugar.
Use 1 by 14×10 in. sheet of fudge 1/2″ thick.
More Recipes For You To Enjoy: