This recipe was written on two lined index cards and found in a large collection, date unknown. There's a note saying it's a Pillsbury winner in the top right corner. I've typed it out below along with a scanned copy (of the front first card only).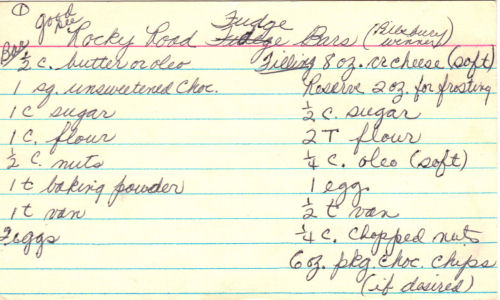 Rocky Road Fudge Bars
(Pillsbury Winner)
Bar:
1/2 c. butter or oleo
1 sq. unsweetened choc.
1 c. sugar
1 c. flour
1/2 c. nuts
1 t baking powder
1 t van
2 eggs
Filling:
8 oz. cr. cheese (soft)
Reserve 2 oz. for frosting
1/2 c. sugar
2 T. flour
1/4 c. oleo (soft)
1 egg
1/2 t. van.
1/4 c. chopped nuts
6 oz. pkg. choc. chips (if desired)
Frosting:
2 c. miniature marshmallows
1/4 c. oleo
1 sq. choc. (unsweetened)
2 oz. cr. cheese
1/4 c. milk
1# powdered sugar
1 t. van.
Preheat oven 350°. Grease & flour 13×9 pan. In lge saucepan, over low heat melt 1/2 c. butter & 1 oz. choc. Add remaining bar ingred. Mix well.
Spread in prepared pan. In small bowl, combine 6 oz. cr. cheese with next 5 Filling ingred. Blend until smooth & fluffy. Stir in nuts. Spread over choc. mixture. If desired, sprinkle with choc. chips.
Bake at 350° for 25 to 35 min. until toothpick comes out clean. Sprinkle with marshmallows & bake 2 min. longer. In large pan over low heat, melt 1/4 c butter, 1 oz. choc., cr. cheese & milk. Stir in powdered sugar & van. until smooth. Immediately pour over marshmallows & swirl together. Store in refrigerator.
Makes 3 doz bars.
More Recipes For You To Enjoy: