The recipe was clipped from a newspaper, date unknown. Recipe is typed below along with a scanned copy.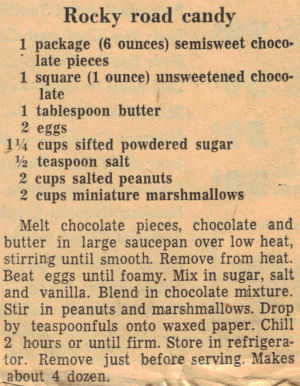 Rocky Road Candy
1 package (6 ounces) semisweet chocolate pieces
1 square (1 ounce) unsweeteneded chocolate
1 tablespoon butter
2 eggs
1 1/4 cups sifted powdered sugar
1/2 teaspoon salt
2 cups salted peanuts
2 cups miniature marshmallows
Melt chocolate pieces, chocolate and butter in large saucepan over low heat, stirring until smooth. Remove from heat. Beat eggs until foamy. Mix in sugar, salt and vanilla. Blend in chocolate mixture. Stir in peanuts and marshmallows. Drop by teaspoonfuls onto waxed paper. Chill 2 hours or until firm. Store in refrigerator. Remove just before serving. Makes about 4 dozen.
More Recipes For You To Enjoy: