This promo recipe from French's was clipped from a newspaper and found in a large collection, date unknown. I've typed it below along with a scanned copy.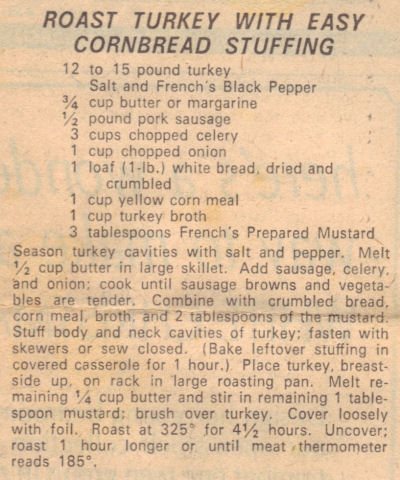 Roast Turkey With Easy Cornbread Stuffing
12 to 15 pound turkey
Salt and French's Black Pepper
3/4 cup butter or margarine
1/2 pound pork sausage
3 cups chopped celery
1 cup chopped onion
1 loaf (1-lb.) white bread, dried and crumbled
1 cup yellow corn meal
1 cup turkey broth
3 tablespoons French's Prepared Mustard
Season turkey cavities with salt and pepper. Melt 1/2 cup butter in large skillet. Add sausage, celery, and onion; cook until sausage browns and vegetables are tender. Combine with crumbled bread, corn meal, broth, and 2 tablespoons of the mustard.
Stuff body and neck cavities of turkey; fasten with skewers or sew closed. (Bake leftover stuffing in covered casserole for 1 hour.) Place turkey, breast-side up on rack in large roasting pan. Melt remaining 1/4 cup butter and stir in remaining 1 tablespoon mustard; brush over turkey.
Cover loosely with foil. Roast at 325° for 4 1/2 hours. Uncover; roast 1 hour longer or until meat thermometer reads 185°.
More Recipes For You To Enjoy: