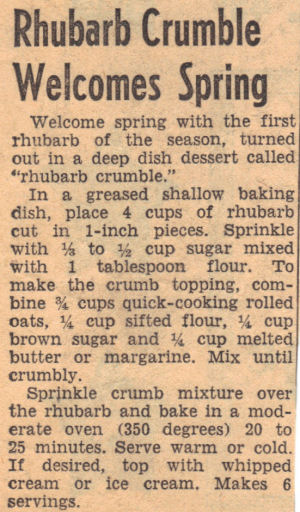 This recipe was clipped from a newspaper and found in a large collection, date unknown. I've typed it below along with a scanned copy.
Rhubarb Crumble Welcomes Spring
Welcome spring with the first rhubarb of the season, turned out in a deep dish dessert called "rhubarb crumble."
In a greased shallow baking dish, place 4 cups of rhubarb cut in 1-inch pieces. Sprinkle with 1/3 to 1/2 cup sugar mixed with 1 tablespoon flour. To make the crumb topping, combine 3/4 cups quick-cooking rolled oats, 1/4 cup sifted flour, 1/4 cup brown sugar and 1/4 cup melted butter or margarine. Mix until crumbly.
Sprinkle crumb mixture over the rhubarb and bake in a moderate oven (350 degrees) 20 to 25 minutes. Serve warm or cold. If desired, top with whipped cream or ice cream. Makes 6 servings.
More Recipes For You To Enjoy: