This recipe was written on a lined index card and found in a large collection, date unknown. I've typed it below along with a scanned copy.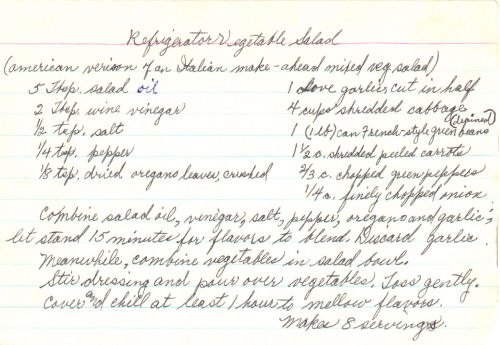 Refrigerator Vegetable Salad
(American version of an Italian make-ahead mixed veg salad)
5 Tbsp. salad oil
2 Tbsp. wine vinegar
1/2 tsp. salt
1/4 tsp. pepper
1/8 tsp. dried oregano leaves, crushed
1 clove garlic, cut in half
4 cups shredded cabbage
1 (1 lb) can French-style green beans (drained)
1 1/2 c. shredded peeled carrots
2/3 c. chopped green peppers
1/4 c. finely chopped onion
Combine salad oil, vinegar, salt, pepper, oregano and garlic; let stand 15 minutes for flavors to blend. Discard garlic.
Meanwhile, combine vegetables in salad bowl.
Stir dressing and pour over vegetables. Toss gently.
Cover and chill at least 1 hour to mellow flavors.
Makes 8 servings.
More Recipes For You To Enjoy: