This recipe was clipped from a newspaper and found in a large collection, date unknown. Recipe is typed below along with a scanned copy.
Refrigerator rolls
3/4 cup shortening
3/4 cup sugar
3 eggs
1 cup milk, scalded
2 cups cold water
2 cakes yeast dissolved in 1/2 cup warm water
1 tsp. salt
7 1/2 cups flour
Cream shortening with sugar until blended. Add eggs and blend.
Scald the milk. Blend it with the two cups cold water and add to sugar mixture. Then add the dissolved yeast and salt.
Blend in flour and mix well. Cover with clean towel and put in refrigerator overnight.
The next day, roll out dough to desired thickness (rolls will double in size). Cut with floured cookie cutter or cut into squares. Let rise again until doubled in bulk.
Bake in preheated 350-degree oven for about 25 minutes, until golden brown.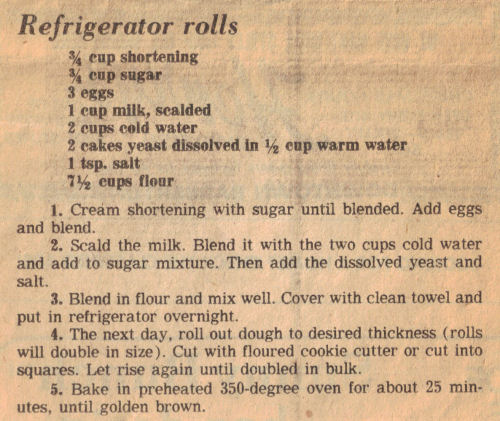 More Recipes For You To Enjoy: